Discover new books by British-Asian authors
View upcoming books below or click 'Now onwards' to set your own date range

Would I Lie to You?
July 8, 2021
@
8:00 am
–
5:00 pm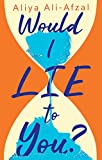 A page-turning, warm-hearted and wise debut novel about Faiza, a glossy banker's wife who must hide the fact she's spent the family's savings when her husband, Tom, loses his job.
Faiza has it all: a handsome husband, three beautiful children, and an idyllic home in Wimbledon Village. But then – in the middle of her first botox appointment – she gets a phone call from Tom telling her he's lost his job. Her world starts to crumble. Tom assures her that they will be fine – after all, they have their emergency savings to fall back on. But Faiza knows better: she's secretly spent it.
What begins with a small lie to her husband spirals into the hugely tense, and often very touching, story of Faiza's attempts to put the money back before her husband or her girlfriends notice anything is amiss. And as the clock ticks down and one plan after another succeeds or fails, a different Faiza emerges: one who will learn things about her family, her identity, her hopes and desires that she never knew before.
Note: We use Amazon affiliate links and earn a small commission if you click through and make a purchase. This goes back into the running of Asian Booklist.