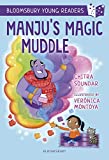 A funny, magical story, ideal for children practising their reading at home or in school.
Manju's stuck at home and she is most definitely BORED. Looking for entertainment, she summons the genie from the magic lamp. When he turns up with a terrible cold, the genie can't hear any of Manju's wishes properly and his magic is even more strange than it usually is. Can Manju help him sort out the muddle?
Manju and the genie return in this quirky comedy from Chitra Soundar, perfect for Key Stage 1 (KS1) children who are learning to read by themselves. It features illustrations from Verónica Montoya and hilarious mishaps that children will love.
Bloomsbury Young Readers are the perfect way to get children reading, with book-banded stories by brilliant authors like Julia Donaldson. They are packed with gorgeous colour illustrations and include inside cover notes with tips for getting the most out of the book, as well as ideas for activities related to the stories.