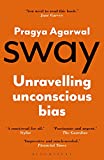 For the first time, behavioural and data scientist, activist and writer Dr Pragya Agarwal unravels the way our implicit or 'unintentional' biases affect the way we communicate and perceive the world, how they affect our decision-making, and how they reinforce and perpetuate systemic and structural inequalities.
Sway is a thoroughly researched and comprehensive look at unconscious bias and how it impacts day-to-day life, from job interviews to romantic relationships to saving for retirement. It covers a huge number of sensitive topics – sexism, racism, ageism, homophobia, colourism – with tact, and combines statistics with stories to paint a fuller picture and enhance understanding. Throughout, Pragya clearly delineates theories with a solid grounding in science, answering questions such as: do our roots for prejudice lie in our evolutionary past? What happens in our brains when we are biased? How has bias affected technology? If we don't know about it, are we really responsible for it?
At a time when partisan political ideologies are taking centre stage, and we struggle to make sense of who we are and who we want to be, it is crucial that we understand why we act the way we do. This book will enables us to open our eyes to our own biases in a scientific and non-judgmental way.