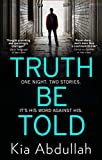 The new hard-hitting courtroom drama from the author of Take It Back.
Kamran Hadid is seventeen years old, and feels invincible. He attends Hampton school, an elite all-boys boarding school in London, he comes from a wealthy family, has a place at Oxford next year, and he's outgoing and confident. The world is at his feet. And then a night of revelry leads to a drunken encounter with one of his classmates and he must ask himself a horrific question.
With the help of assault counsellor, Zara Kaleel, Kamran reports the incident in the hopes that will be the end of it. But it's only the beginning…
Powerful, explosive and important, Truth Be Told is a contemporary courtroom drama that vividly captures today's society. You will not stop thinking about for a long time to come.