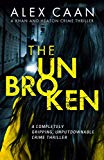 Millie didn't get time to think. The car door was pulled open and she was dragged out, her screams loud and raw, as she kicked and fought. She called out for Oscar, again and again, screaming for help.
But he never came.
It was the wedding of the year. Millie Beaumont marrying billionaire playboy Oscar Hayat, the eyes of the world watching.
But the dream turns into a nightmare when Millie and Oscar are brutally abducted while on honeymoon. Millie is killed, her body dumped in London. Oscar is still
missing…
Enter DS Moomy Khan and DI Sarah Heaton – not your typical police officers. Moomy is running from her own troubled past, while Sarah is having to live with the hard choices she has made. Yet they will stop at nothing to find Millie's murderers and track down Oscar. Only a family as high profile as the Hayats have enemies lurking in every corner – have they taken the ultimate revenge, or is someone else behind the death and kidnapping?
And can Moomy and Sarah find Oscar – before time runs out and he suffers the same fate as his wife?
The first book in the gripping, fast-paced new Khan and Heaton crime series, The Unbroken will thrill fans of A.A. Dhand, Angela Marsons and Robert Bryndza.