Discover new books by British-Asian authors
View new books below or click 'Upcoming' to set your own date range

Dosh: How to Earn It, Save It, Spend It, Grow It, Give It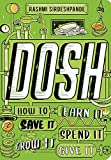 Having some dosh in your pocket can be really exciting. And when it's used as a force for good, those pennies have the power to change the world. But managing money can seem daunting, especially in uncertain times. This book is here to build your confidence, transform you into a money expert and look toward the future.
Whether you want to become an entrepreneur, be a savvy shopper, save all your pennies or splurge on something you really want, children's author and former lawyer, Rashmi Sirdeshpande, is here to help you make the right decisions. Discover what money is, why it mattes, how to spend it and ways to make more of it in this fun and brilliant guide.
Note: We use Amazon affiliate links and earn a small commission if you click through and make a purchase. This goes back into the running of Asian Booklist.