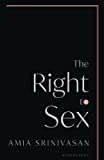 We still do not know how to talk about sex. The current debate about sexual entitlement, objectification, rape culture or pornography fixates on the idea of consent as an objective frame through which to view our sexual encounters. Yet stripped of morality and ethics, consent is a blunt tool, of limited use when contemplating one of the oldest and most important problems: the shape and meaning of sex.
What is the meaning of sex in a culture where online pornography shapes the sexual psyches of almost all young people? How do we address new questions about sexual entitlement, from incels to the politics of desire? How do we deny that sex is a commodity to be evenly distributed, while simultaneously insisting women have the right to sell it?
Searching, trenchant and extraordinarily original, The Right to Sex is a landmark dismantling of the politics and ethics of sex in this world, animated by the hope of a different one.