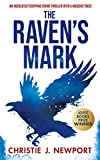 Meet Beth Fellows, a Preston detective haunted by her mum's murder when she was only four. She's a driven woman with a heart of gold.
A stranger came into our home, strangled my mother to death and left me sitting alone with her body. What happened to my mum is the driving force behind every major decision I've made since . . .
Now Beth faces the hardest case of her career: Rose Danes's throat is cut, her body discarded on a council estate. Seared into the teenage girl's skin is the image of a raven.
Six years ago, another girl was attacked. The victim, fourteen-year-old Celine Wilson, barely survived and was left brain-damaged in a coma.
THIS GIRL ALSO HAD A RAVEN BURNED ON HER BODY.
Why wait six years to strike again?
Then Beth receives a mobile phone from the killer — with a warning that he will hurt those closest to her if she tells anyone.
She's talking to a dangerous predator but nobody knows. Not her team. Not her partner. No one.
If I'd known the personal cost of heading this investigation I would have walked away. No, I would have run as fast as I could and never looked back. Now, it's far too late . . .
Beth must break all the rules to stop any more girls from suffering. But will her everything be enough to stop a sick murderer?
Fans of Angela Marsons, Helen Fields, Nadine Matheson, Helen H. Durrant, Rachel McLean, Lynda La Plante and Dorothy Koomson will devour this page-turning crime thriller.