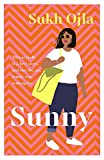 This actually is a love story, just not the one Sunny was looking for . . .
Sunny is the queen of living a double life. To her friends, she's the entertaining, eternally upbeat, single one, always on hand to share hilarious and horrifying date stories. But while they're all settling down with long-term partners and mortgages, Sunny is back in her childhood bedroom at thirty, playing the role of the perfect daughter. She spends her time watching the Sikh channel, making saag and samosey with her mum, hiding gins-in-a-tin in her underwear drawer and sneaking home in the middle of the night after dates, trying but failing to find 'the one'.
She juggles both lives perfectly . . . on the outside, at least. But when her mum sees a guy dropping Sunny home one evening, Sunny's life gets a little complicated. Now her mum wants to know about the life she's hidden from her for so long.
Sunny is well versed in lying to her friends, her family, and, above all, herself. But how long can she keep it up for? Or is it finally time to start being honest?