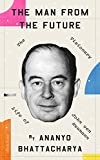 The smartphones in our pockets and computers like brains. The vagaries of game theory and evolutionary biology. Self-replicating moon bases and nuclear weapons. All bear the fingerprints of one remarkable man: John von Neumann.
Born in Budapest at the turn of the century, von Neumann is one of the most influential scientists to have ever lived. His colleagues believed he had the fastest brain on the planet – bar none. He was instrumental in the Manhattan Project and helped formulate the bedrock of Cold War geopolitics and modern economic theory. He created the first ever programmable digital computer. He prophesied the potential of nanotechnology and, from his deathbed, expounded on the limits of brains and computers – and how they might be overcome.
Taking us on an astonishing journey, Ananyo Bhattacharya explores how a combination of genius and unique historical circumstance allowed a single man to sweep through so many different fields of science, sparking revolutions wherever he went.
Insightful and illuminating, The Man from the Future is a thrilling intellectual biography of the visionary thinker who shaped our century.