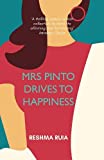 A lonely woman develops an unhealthy obsession with a
celebrity writer. A young man attends the funeral of his
gay lover. A feisty woman escapes a life of domestic
drudgery.
Reshma Ruia's stories feature characters who
confront ageing, love and loss with anger, passion and
quiet defiance. They are in search of new beginnings and
old certainties; everyday people whose lives oscillate
between worlds – geographical, cultural, and emotional –
in a constant flux, shaped and reshaped by an imperative to
anchor to a map or a feeling.