Discover new books by British-Asian authors
View new books below or click 'Upcoming' to set your own date range

The Court of Miracles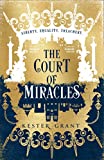 Les Misérables meets Six of Crows in this page-turning adventure as a young thief finds herself going head to head with leaders of Paris's criminal underground in the wake of a failed French Revolution.
Liberty
1828 and the citizens of Paris still mourn in the wake of their failed revolution. Among them, in the dark alleys and crumbling cathedrals of the city, the most wretched have gathered into guilds of thieves, assassins – and worse. Together they are known as The Court of Miracles.
Family
Eponine has lost more than most. When her father, Thénardier, sells her sister to the Guild of Flesh she makes a promise to do anything she can to get her sister back, even if that means joining the Court of Miracles, the very people keeping her sister a slave.
Treachery
Eponine becomes perhaps the greatest thief the Court has ever known, finding a place among them and gaining another sister, Cosette. But she has never forgotten the promise she made, and if she's to have any hope of saving one sister, she will have to betray the other.
This beautiful reimagining of Les Misérables tells the stories of your favourite characters and what might have happened if the French Revolution had not come to pass.
Note: We use Amazon affiliate links and earn a small commission if you click through and make a purchase. This goes back into the running of Asian Booklist.