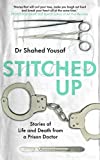 Dr Shahed Yousaf is a prison doctor dedicated to caring for people on the margins of society. An outsider on the inside, in Stitched Up he introduces us to a cast of unforgettable characters, including killers, con men and auto-cannibals. To Dr Yousaf, they are patients first and prisoners second – because any one of us could end up on the wrong side of the law. He tells us honestly and compassionately what it's like to be their doctor in a system that's chronically overcrowded, drastically under-resourced and all too easy to ignore.
Dr Yousaf spends his time running between emergencies – from overdoses to assaults, from cell fires to suicides – with one hand perpetually hovering over the panic button. It's not a job for the faint-hearted. But while the system is failing, he and his colleagues are doing their very best to prop it up.
In stories that are frequently harrowing, sometimes humorous and always hard-hitting, we discover how difficult life is for those behind bars – but that there is still hope for all those who dare to care.