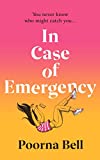 Bel Kumar wakes up in hospital surprised and confused.
Surprised to be told she had a near-fatal accident outside work. And confused as to why her ex-boyfriend is by her bedside.
Bel's HR record still lists her ex as her next of kin, but she can't think of a less appropriate person to nurse her back to health.
But who can she turn to in a crisis? Over-invested parents? A sister whose life has turned out perfectly? Friends she exchanges dating woes with over cocktails?
If this experience has taught Bel anything, it's that she should reconnect with the most important people from her past. But that's going to be easier said than done because Bel has never been good at asking for help.
And she's doing just fine on her own… Isn't she?