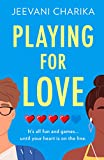 When Sam's not working on her fledgling business, she spends her time secretly video-gaming. Her crush is famous gamer Blaze, and she's thrilled when she's teamed up with him in a virtual tournament.
But what Sam doesn't know is that Blaze is the alter ego of Luke, her shy colleague – and he has a secret crush too.
Luke has a crush on Sam.
Sam has a crush on Blaze.
How will this game of love play out?
A fun, feel-good romance for fans of You've Got Mail, Helen Hoang, Jasmine Guillory and Lindsey Kelk.