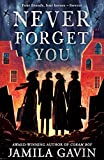 England, 1937.
Gwen, Noor, Dodo and Vera are four very different teenage girls, with something in common. Their parents are all abroad, leaving them in their English boarding school, where they soon form an intense friendship. The four friends think that no matter what, they will always have each other. Then the war comes.
The girls find themselves flung to different corners of the war, from the flying planes in the Air Transport Auxiliary to going undercover in the French Resistance. Each journey brings danger and uncertainty as each of them wonders if they can make it through – and what will be left of the world. But at the same time, this is what shows them who they really are – and against this impossible backdrop, they find new connections and the possibility of love.
Will the four friends ever see each other again? And when the war is over, who will be left to tell the story?
A heartbreaking and gripping story of hope, fear and unbreakable friendship, for readers of Code Name Verity and When the World Was Ours.