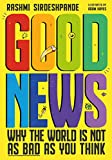 A positive, reassuring and anxiety-eliminating book helping children change the way they think about the world
Pandemics, war, terror, natural disasters – the world feels scarier than ever. And we're being inundated with rolling coverage on our TV screens, tablets, phones, computers… So much so that politics, global warming, health and the global economy are now some of the biggest concerns in a child's life.
But this is just part of the story. What about all the good things that are happening? The stories of solutions, positive change and the power of people to unite in challenging times? Drawing on amazing anecdotes, case studies, facts and figures from around the globe, Good news will help kids navigate fake and bad news, and realise there are a lot of positive things happening that just isn't getting air time.
Covering everything from the robots improving health care and the trees healing the planet, to everyday people who are helping their community with acts of kindness and the businesses fighting for good in the world.
Empowering, reassuring and confidence-boosting, this book is a positive antidote for testing times.