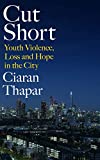 Demetri wants to study criminology at university to understand why people around him carry knives. Jhemar is determined to advocate for his community following the murder of a loved one. Carl's exclusion leaves him vulnerable to the sinister school-to-prison pipeline, but he is resolute to defy expectations. And Tony, the tireless manager of a community centre, is fighting not only for the lives of local young people, but to keep the centre's doors open.
'Knife crime' is a simplistic and prejudiced term, shorthand for how contemporary Britain is failing a generation fearful for their lives. How can a stripped-back police force build bridges in communities that have had enough of them? What is a school supposed to do if a child brings in a knife, and can overworked teachers stop it happening again? How did we get here, what is really going on and how do we move forward? Youth worker and writer Ciaran Thapar finds answers in the journeys of those with whom he has built relationships, learned from and mentored.
Drawing on the latest research and interviews with experts, this refreshingly-nuanced and beautifully-written book interweaves the stories of a cast of characters at the sharp end of London's serious youth violence epidemic, with chapters on subjects such as social media, gentrification and criminal justice. Showing how we are all connected to this tragedy, Cut Short is a gripping, urgent, sympathetic and often painful portrait of a society fracturing along lines of race, class and postcodes. It is a blueprint for positive change, and a book we desperately need.