Discover new books by British-Asian authors
View new books below or click 'Upcoming' to set your own date range

Yes You Can, Cow!
Rashmi Sirdeshpande & Rikin Parekh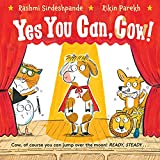 It's the Nursery Rhyme's big performance, but Cow is having second thoughts. She's too scared to jump! What if she crashes? Will everyone laugh?
The curtain's almost up and the audience are waiting. Can Cow overcome her fear of failure and become the star of the show?
A gorgeous, heartwarming story about believing in yourself and doing your best based on the ever-popular nursery rhyme 'Hey Diddle Diddle'.
Note: We use Amazon affiliate links and earn a small commission if you click through and make a purchase. This goes back into the running of Asian Booklist.