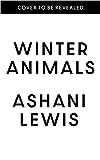 In one of America's Happiest Cities, Elen is trapped under the shadow of the snow-capped Cascade Mountains. Elen is alone, and unmoored. Her husband has left her. Her belongings are in the boot of her car. Her days are filled mostly with silence and drinking. When she meets four English teenagers in a decaying bar, she is enamoured.
The teenagers are wealthy squatters, drifting between ski resorts and breaking into empty AirBnBs. When they bring Elen into their fold – and their messy, entangled romantic relationships – she initially remains on the outskirts, invisibly separated by their privilege. Simmering beneath the well-oiled machine of the group's socialist bliss, she senses a violent secret that fuels the four's never-ending disappearing act.
Vibrant and cultish, they force Elen to ruminate on the irresistible pull of bright young things. She is forced to ask, what is it that they want from her? Why do they want her to stay?
But why would Elen leave when she has nowhere else to go?
A dark meditation on the dangers and seductive power of youthful idealism, and the slippages between friendship and love, Winter Animals is a beguiling debut novel, reminiscent of Donna Tartt and Jessica Andrew's Milk Teeth, that examines freedom, friendship, desire, and excess.