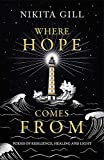 In Where Hope Comes From: poems for a broken world, Instagram superstar and poet Nikita Gill returns to her roots with her most personal collection yet.
Sharing a number of poems that she wrote when the world went into lockdown, this collection will include the phenomenal Love in the Time of Coronavirus which was shared across social media over 20,000 times, as well as her poems of strength and hope How to Be Strong and Silver Linings.
This collection will be fully illustrated by Nikita with beautiful line-drawings, and moves her into an exciting new space in the market as she tackles themes such as mental health and loneliness.