Discover new books by British-Asian authors
View new books below or click 'Upcoming' to set your own date range

Things We Do Not Tell the People We Love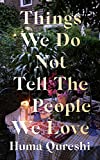 A collection about mothers and daughters, children lost, unborn, grown up, grown apart, and the dissonance between lovers. It exposes the silences in families and the parts of ourselves we rarely reveal.
A daughter asks her mother to shut up, only to shut her up for good; an exhausted wife walks away from the husband who doesn't understand her; on holiday, lovers no longer understand each other away from home.
The underlying themes of loneliness, secrets, family and displacement and also the desire to belong to someone, to some place; a yearning for love, intertwine these stories.
The collection includes The Jam Maker, which was awarded the Harper's Bazaar Short Story Prize 2020.
Note: We use Amazon affiliate links and earn a small commission if you click through and make a purchase. This goes back into the running of Asian Booklist.