Discover new books by British-Asian authors
View new books below or click 'Upcoming' to set your own date range

Thirty Things I Love About Myself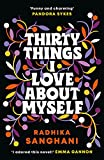 30 Things I Love About Myself is the exuberant, witty, irresistible, hilarious and unforgettable story of Nina Mistry, who finds herself accidentally locked in a prison cell on the night of her 30th birthday, where she discovers a tatty little self-help book that will inspire her to take a long hard look at her life, who she really is and what she wants – and to put into action a self-love journey like no other!
This is a book for anyone who has ever had a self-worth wobble, or is watching someone they love struggle; it is for anyone who has ever failed, and got themselves back up again; or whose life has veered off the tracks.
Note: We use Amazon affiliate links and earn a small commission if you click through and make a purchase. This goes back into the running of Asian Booklist.