Discover new books by British-Asian authors
View new books below or click 'Upcoming' to set your own date range

These Impossible Things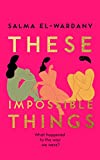 These Impossible Things charts the dreams and disappointments of a group of British Muslim women; Jenna, Kees and Malak. They have been friends for years: the three of them together against the world.
Yet one night changes everything between them and they are left adrift, marooned from each other as their lives take different paths. Without the support of each other, nothing seems to go quite right and in the wake of heartbreaks, marriages, new careers and new beginnings, they need each other more than ever. Will they be able to forgive each other in time?
Note: We use Amazon affiliate links and earn a small commission if you click through and make a purchase. This goes back into the running of Asian Booklist.