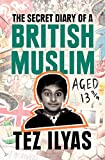 The hilarious and pubescent debut book from your favourite British Muslim comedian (that's Tez Ilyas, by the way) is coming to a shop near you. You may know and love Tez from his stand-up comedy, his role as Eight in Man Like Mobeen, his Radio 4 series TEZ Talks, or panel shows such as Mock the Week and The Last Leg. Where you won't know him from is 1997 when he was 13 ¾. (But now you will – because that's what the book is about.)
In this suitably dramatic rollercoaster of a teenage memoir, Tez takes us back to where it all began: a working class, insular British Asian Muslim community in his hometown of post-Thatcher Blackburn. Meet Ammi (Mum), Baji Rosey (the older sister), Shibz (the fashionable cousin), Was (the cool cousin), Shiry (the cleverest cousin) and a community with the most creative nicknames this side of Top Gun.
Running away from shotgun-wielding farmers, successfully dodging arranged marriages, getting mugged, having front row seats to race riots and achieving formative sexual experiences doing stomach crunches in a gym, you could say life was fairly run of the mill. But with a GCSE pass rate of 30% at his school, his own fair share of family tragedy around the corner and 9/11 on the horizon, Tez's experiences of growing up as a British Muslim wasn't the fun, Jihad-pursuing affair the media wants you to believe. Well … not always.
At times shalwar-wettingly hilarious and at others searingly sad, The Secret Diary of a British Muslim Aged 13¾ shows 90s Britain at its best, and its worst.