15 September 2022
All day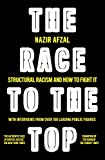 A powerful, campaigning intervention by one of Britain's most senior law enforcers, roundly debunking the myth of progress in racial equality ― particularly in the workplace ― and offering a blueprint for the future.
Have you ever wondered why, as Britain becomes more diverse, so many of our leaders come from the same narrow pool? Can it be acceptable in 2021 that there are no ethnic minority chief constables, no CEOs in the top 50 NHS Trusts and no permanent secretaries in the civil service?
Nazir Afzal knows what it's like to break the glass ceiling, challenge prejudice and shake up predominantly white institutions. Born in Birmingham to first generation Pakistani immigrants, he was the first Muslim to be appointed as a Chief Crown Prosecutor and the most senior Muslim lawyer in the Crown Prosecution Service.
His insights into the UK's relationship with race and power have driven him to demand answers to an age old question around Britain's diversity failings: why does ethnic minority talent continue to be side-lined? Deploying bristling polemic and presenting an ambitious blueprint to unlock Britain's hidden potential, this book hears from high-profile ethnic minority leaders to discover the hurdles they had to overcome and what changes are needed to make a difference.
Containing interviews with leaders across all sectors, Nazir provides the most detailed examination to date of the prejudice holding our leading institutions and industries back. In doing so it forcefully confronts stale leadership orthodoxies and argues that power in Britain does not have to look exactly the same as it always has done. It's time to welcome the new wave of diverse leadership talent that Britain is crying out for.