Discover new books by British-Asian authors
View new books below or click 'Upcoming' to set your own date range

The Philosophy of Curry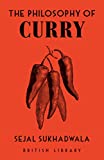 There are curries on almost every continent, with a stunning diversity of flavours and textures across India alone, and many more interpretations the world over, including in Indonesia, Malaysia, Japan, Trinidad and the UK. But curry is difficult to define. The word has origins in ancient India, but its adoption by Portuguese and British colonisers saw curry reinterpreted in the west to encompass an entire cuisine, prompting many Indians to reject the term outright.
Sejal Sukhadwala probes the complex intersection of tradition and colonialism through the fascinating history of curry, from recipes in the Mahabharata to its enduring popularity in contemporary British culture. Garnishing this history is a surfeit of helpful advice on how to cook a proper Indian curry, how to temper spices and where to find those all-important mouth-watering recipes.
Note: We use Amazon affiliate links and earn a small commission if you click through and make a purchase. This goes back into the running of Asian Booklist.