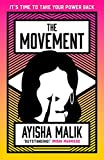 With words come power. But do you speak out or shut up?
Everywhere Sara Javed goes – online or outside – everyone is shouting about something. Couldn't they all just shut up? One day she takes her own advice.
At first people don't understand her silence and are politely confused at best. But the last thing Sara could anticipate is becoming the figurehead of a global movement that splits society in two.
The Silent Movement sparks outrage in its opposers. Global structures start to shift. And the lives of those closest to Sara – as well as strangers inspired by her act – begin to unravel.
It's time for the world to reconsider what it means to have a voice.
A sharply observed novel, charged with compassion and dark wit, that will spark important conversations about how we live, relate and communicate now.