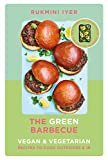 With summer on the horizon, it's time to make the most of the sunny days by sticking on the grill and getting some great food on the barbecue. If prepping a meat-free bbq seems a challenge, think again: this collection of 75 flavour-packed and mouth-watering recipes is completely meat-free.
Whether you're entertaining for vegetarian guests or you're preparing a flexitarian feast, these recipes are quick and easy to make, great for all the family and completely fuss-free.
With a wide range of veggie-friendly options, from griddled papaya and charred tenderstem to crispy barbecue tofu and dill-soused feta, this is the ultimate veggie book of 2021, to cook outdoors or in.
Over half a million copies now sold of Rukmini Iyer's Roasting Tin books. Convenient, simple and delicious one-dish cooking: the go-to books for busy people.