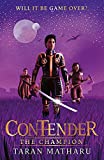 n a world far from our own, where enemies come in many forms, will the ultimate battle for survival be GAME OVER?
Don't miss the explosive final book in the epic CONTENDER trilogy from the bestselling author of the Summoner series.
CADE AND HIS FRIENDS ARE FIGHTING FOR EARTH
Cade has managed to survive the duel with the Hydra Alpha – barely. But the Games are far from over.
By order of the cruel and mysterious alien overlord, Abaddon, Cade and his friends are sent off to war against the Greys, a humanoid race who have far surpassed humans in technology on their home planet.
A GLIMMER OF HOPE?
This attempt to move up the leaderboard leads Cade to a game-changing revelation: The Pantheon – the millennia-old alien masterminds behind the Games – have a weakness.
With the right artefacts scavenged from the land of Acies and a heavy dose of courage and luck, Cade has exactly one chance to end their tyranny for ever. But if he fails, for the lives of his friends and the survival of Earth it will be …
GAME OVER