Discover new books by British-Asian authors
View new books below or click 'Upcoming' to set your own date range

Strong Female Lead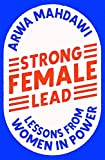 From climate change to massive inequality to the decline of trust, the world is facing a number of interconnected crises. Above all else, however, it's facing a crisis of leadership. We have confused confidence with competence and chosen our leaders based not on their skillset and ability, but on how closely they fit our image of a leader. And, funnily enough, that image is very masculine.
It's time to change the narrative around leadership. It's time we stopped pathologizing femininity and recognized that the traits we associate with women – things like empathy and collaboration – are strengths, not weaknesses. It's time we stopped telling women to act like men and started telling men to lead like women. Not for politically correct reasons, but for existential ones.
The world has never been in greater need of good leaders. Strong Female Lead shows us what they're made of.
Note: We use Amazon affiliate links and earn a small commission if you click through and make a purchase. This goes back into the running of Asian Booklist.