Discover new books by British-Asian authors
View new books below or click 'Upcoming' to set your own date range

Sex Bomb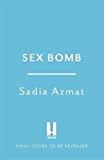 Sadia is a comedian who loves sex. She is also a hijab-wearing Muslim woman. The two are in a lifelong relationship, but it's complicated.
In this vibrant, funny and conversation-starting memoir, Sadia shows how the different sides of her identity and personality have fought and embraced each other over the course of her life. From being viewed as a 'sister' being a real cock-block, to growing up and being criticised by Muslim's and white people alike for speaking out on sex; from her experiences of dating Asian men and White men to her tumultuous relationship with her headscarf, Sadia is unafraid to give you the honest truth. In the end she looks to the future for herself and women alike, what does it mean to be sexually liberated? And can you truly separate the girl from the headscarf?
Sex Bomb is The Wrong Knickers meets It's Not About the Burqa and offers a whole new look at the experiences of a Muslim woman. Crackling with humour and exploding with personality, this is the memoir you do not want to miss.
Note: We use Amazon affiliate links and earn a small commission if you click through and make a purchase. This goes back into the running of Asian Booklist.