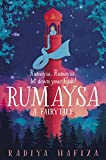 'Rumaysa, Rumaysa, let down your hijab!'

For as long as she can remember Rumaysa has been locked away in her tall, tall tower, forced to use her magic to spin straw into gold for the evil Witch and unable to leave. Until one day, after dropping a hijab out of her small tower-window, Rumaysa realizes how she might be able to escape . . .
Join Rumaysa as she adventures through enchanted forests and into dragon's lairs, discovers her own incredible magical powers and teams up with Cinderayla and Sleeping Sara!
Rumaysa: A Fairytale is a magically fresh, empowering and funny debut, with beautiful inside illustrations by Rhaida El Touny and cover illustration by Areeba Siddique.