Suruthi Bala, Hannah Maguire
16 September 2021
All day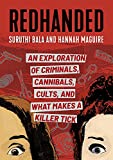 What is it about killers, cults, and cannibals that capture our imaginations even as they terrify and disturb us? How do we carefully consume these cases and what can they teach us about what makes victims and their murderers our collective responsibility?
RedHanded rejects the outdated narrative of killers as monsters and that a victim 'was just in the wrong place at the wrong time.' Instead, it dissects the stories of killers in a way that challenges perceptions and asks the hard questions about society, gender, poverty, culture, and even our politics.
With Bala and Maguire's trademark humour, research on real-life cases, and unflinching analysis of what makes a criminal, the authors take you through the societal, behavioural, and cultural drivers of the most extreme of human behaviour to find out once and for all: what makes a killer tick?