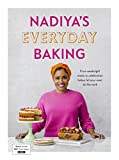 Who says you can't bake every day?
Inside this book Nadiya shows you how to let your oven take the strain to create simple bakes, bursting with flavour, every day of the week.
From beautiful celebration bakes to effortless weeknight dinners, easy sweet and savoury tray bakes to quick-fix lunches and snacks, Nadiya's Everyday Baking is filled with simple and mouth-watering bakes such as:
Meringue Pops
White Chocolate and Raspberry Puff Bar
Coffee Cake with Dalgona Coffee Cream
Butterscotch Cheesecake Coconut Bars
No-Knead Bread
Dump-It-All-In Mexican Dinner
Aubergine Brioche Burgers
Above all, Nadiya's incredible, stress-free recipes will show you that anyone can reap the benefits of baking, all you need is an oven.