Discover new books by British-Asian authors
View new books below or click 'Upcoming' to set your own date range

Motherland: What I've Learned about Parenthood, Race and Identity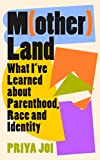 A thought-provoking and nuanced memoir on motherhood, race and identity
M(other)land will be a powerful response to the absence of an inclusive and accessible blueprint for navigating life as a multi-faceted mother. Joi will interrogate this silence, providing a voice of understanding for all those who fall outside mainstream presentations of 'parenthood' who have never seen themselves or their experiences represented.
The typical 'mother' painted in our culture has to combat the strains of motherhood, but not motherhood and identity, so this book will be a deep dive into the often-fraught conversation (both internal and external) of what it means to be a parent in a space where you are the minority.
Joi will consider how her personal and cultural identity intersect with motherhood and inform her identity as a parent, interrogating how multi-cultural parenting and our past continues to affect and challenge our futures. The book will be a crucial resource for anyone trying to navigate the complexities of race and motherhood; who has ever felt other in some way; who has struggled to reconcile their past with how they raise the next generation.
Note: We use Amazon affiliate links and earn a small commission if you click through and make a purchase. This goes back into the running of Asian Booklist.