Discover new books by British-Asian authors
View new books below or click 'Upcoming' to set your own date range

Mark My Words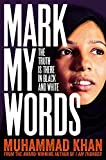 Fifteen-year-old Dua Iqbal has always had trouble minding her own business. With a silver-tongue and an inquisitive nature, a career in journalism seems fated. When her school merges with another to form an Academy, Dua seizes her chance and sets up a rival newspaper, exposing the controversial stories that teachers and the kids who rule the school would rather keep buried.
Dua's investigations are digging up things she shouldn't get involved with about family, friends and her community and as exams rattle towards her, she needs to make some hard decisions about when to leave things alone. But when she discovers that some kids at school are being blamed for selling drugs when the real perpetrator is right in front of their noses, she can't keep quiet any longer.
Note: We use Amazon affiliate links and earn a small commission if you click through and make a purchase. This goes back into the running of Asian Booklist.