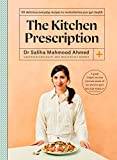 Eating well doesn't need to be dull food and deprivation – it should be eating a wonderfully varied, vibrant and exciting range of foods. In The Kitchen Prescription, gastroenterologist Dr Saliha Mahmood Ahmed draws on her love of good food and her expertise in gut health to create 101 recipes that are easy to make, incredibly delicious to eat and will effortlessly keep your gut and digestion in tip-top condition.
These are family-friendly dishes made for food lovers that are cost effective, diverse and backed by credible scientific advice. Gut-friendly breakfasts, immune-boosting lunches, quick family suppers and a host of simple, mostly plant-based dishes make up this colourful collection of recipes.
Sunshine Tomatoes and Labneh on Toast / Limey Pickle Roast Cauliflower Popcorn / Crunchy Fennel, Carrot and Halloumi Fritters / Chickpea, Chermoula and Feta Sweet Potato / Crispy Gnocchi with Creamy Turmeric and Spinach Sauce / Gut-healing Masala Cottage Pie / Labneh, Passion Fruit and Ginger Cheesecake
The more diversely we eat, the lower our risk of heart disease, diabetes, obesity, depression, and the more enhanced our immunity. This is a book you'll be reaching for time and again, because these recipes are a joy to eat and fuss free, and you can feel happy in the knowledge you'll be helping your body to stay healthy too.