Discover new books by British-Asian authors
View new books below or click 'Upcoming' to set your own date range

I Know What I Saw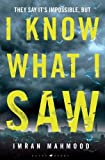 I saw it. He smothered her, pressing his hands on her face. The police don't believe me, they say it's impossible – but I know what I saw.
This is Xander Shute: once a wealthy banker, now living on the streets.
As he shelters for the night in an empty Mayfair flat, he hears its occupants returning home, and scrambles to hide as the couple argue. Trapped in his hiding place, he soon finds himself witnessing a vicious murder.
But who was the dead woman, who the police later tell him can't have been there? And why is the man Xander saw her with evading justice?
Note: We use Amazon affiliate links and earn a small commission if you click through and make a purchase. This goes back into the running of Asian Booklist.