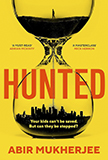 It's a week before the presidential elections when a bomb goes off in an LA shopping mall.
In London, armed police storm Heathrow Airport and arrest Sajid Khan. His daughter, Aliyah, entered the USA with the suicide bomber and now she's missing, potentially plotting another attack on American soil.
But then a woman called Carrie turns up at Sajid's door after travelling halfway across the world. She claims Aliyah is with her son and she has a clue to their whereabouts. Carrie knows something isn't adding up – and that she and Sajid are the only ones who can find their children and discover the truth.
On the run from the authorities, the two parents are thrown together in a race against time to save their kids and stop a catastrophe that will derail the country's future forever.
For fans of Adrian McKinty's The Chain and Clare Mackintosh's Hostage, this blockbuster contemporary thriller will turn your world on its head.