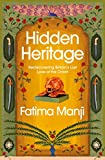 A fresh perspective on British history from award-winning broadcaster Fatima Manji
Deep within the Foreign & Commonwealth Office, where British foreign policy is shaped and enacted, is an ornate central chamber: the Durbar Court. In a grand house off Hyde Park, the eighteenth-century sword of an Indian Sultan lies amidst tapestries and oil paintings. For around twenty years a Turkish mosque stood proudly in Kew gardens, completed in 1761 at the behest of the Dowager Princess of Wales.
Throughout Britain's galleries and museums, civic buildings and stately home, relics can be found that point to a more complex national history than has more recently been remembered. These objects, lost, concealed or simply overlooked, expose the misconceptions around modern immigration narratives and the perhaps surprising diversity of pre-20th-century Britain.
Eschewing explicit politicisation, Manji travels through "the very meccas of Britishness" in search of a richer and more complex story of her own heritage and our wider national narrative about identity and the legacy of empire.