Discover new books by British-Asian authors
View new books below or click 'Upcoming' to set your own date range

Foodology: A food-lover's guide to digestive health and happiness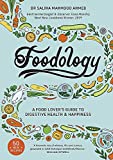 Written by a gastroenterologist and award-winning food writer, Foodology offers a unique perspective on the joy of eating. Explaining the process of digestion and how the food we eat influences the way we feel, Saliha draws on the latest science and her own experiences as both a doctor and a cook, to bring the subject to life. From childhood memories of devouring Indian street food to why munching on a jam doughnut brings gastronomic happiness, Saliha offers 50 new, simple, delicious and mostly vegetarian recipes to help you explore your gut health and find your own gastronomic happiness.
Foodology takes you on a journey from the first smell of food and bite of goodness through to the time it takes for food to leave the system, and all the processes in between. Have you ever thought about why certain smells can make your mouth water, how the texture of food can impact your taste and why some foods can make you bloat? Saliha takes you on an extensive journey through the gut to show you the true joy of food and why gastronomic happiness is so important to our lives.
Note: We use Amazon affiliate links and earn a small commission if you click through and make a purchase. This goes back into the running of Asian Booklist.