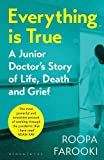 From the frontlines of the NHS, the story of a junior doctor's love, loss and grief through the Covid-19 crisis
In early 2020, junior doctor Roopa Farooki lost her sister to cancer. But just weeks later, she found herself plunged into another kind of crisis, fighting on the frontline of the battle taking place in her hospital, and in hospitals across the country.
Everything is True is the story of Roopa's first forty days of the Covid-19 crisis from the frontlines of A&E and the acute medical wards, as struggling through her grief, she battles for her patients' and colleagues' survival. Working thirteen-hour shifts, she returns home each evening to write through her exhaustion, chronicling the devastating losses and slowly eroding dehumanisation happening in real time on the ward.