Discover new books by British-Asian authors
View new books below or click 'Upcoming' to set your own date range

There's a Dog in My Brain: Dog Show Disaster
Caroline Green & Rikin Parekh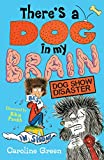 Second canine bodyswap caper featuring Danny – the boy trapped in a dog's body – and Dudley – the hapless dog who's hopeless at being human.
Dudley the dog is tired of getting told off, but when he wishes he could sneak some cakes from the kitchen without getting caught, he isn't expecting to transform into a boy. Danny – his owner – certainly isn't expecting to find himself back in Dudley's body and bound for a doggy discipline session in the park, run by the ruthless Rex Power.
This time though, the combination of Danny's boy-brain in Dudley's dog-body is a winner, as Danny outshines all the other pooches in the park and gets a slot at the local country fair the next day. But Danny's star turn is about to get him into trouble – because Rex Power isn't about to let a boy who looks like he's the one in need of training and his meddling mutt get in the way of winning…
Can Danny outsmart Rex Power and win best-in-show? Will Dudley ever learn what it means to be a good (human) boy? Doesn't seem likely, does it?
Note: We use Amazon affiliate links and earn a small commission if you click through and make a purchase. This goes back into the running of Asian Booklist.