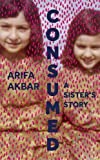 All happy families are alike; each unhappy family is unhappy in its own way.
When Arifa Akbar discovered that her sister had fallen seriously ill, she assumed there would be a brief spell in hospital and then she'd be home. This was not to be. It was not until the day before she died that the family discovered she was suffering from tuberculosis.
Consumed is a story of sisterhood, grief, the redemptive power of art and the strange mythologies that surround tuberculosis. It takes us from Keats's deathbed and the tubercular women of opera to the resurgence of TB in modern Britain today. Arifa travels to Rome to haunt the places Keats and her sister had explored, to her grandparent's house in Pakistan, to her sister's bedside at the Royal Free Hospital in Hampstead and back to a London of the seventies when her family first arrived, poor, homeless and hungry.
Consumed is an eloquent and moving excavation of a family's secrets and a sister's detective story to understand her sibling.