Discover new books by British-Asian authors
View new books below or click 'Upcoming' to set your own date range

China Room: Longlisted for the Booker Prize 2021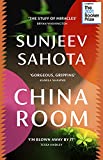 1929. At a farm in Punjab, northern India, three girls are married to three brothers in one ceremony. For weeks afterwards, segregated from the men in the 'china room', heavily veiled, and meeting their husbands only under cover of darkest night, none of the girls is entirely sure which brother is hers. Mehar, the youngest of the three, is determined to find out, and while her efforts lead her into overwhelming love, her story of misplaced identity has tragic, horrifying consequences.
1999. A young man arrives in northern India from the UK to spend the summer with distant relatives. He spends weeks under the merciless sun, in solitude, at the abandoned family farm, with its peeling paint and mysterious locked room.
Note: We use Amazon affiliate links and earn a small commission if you click through and make a purchase. This goes back into the running of Asian Booklist.