Discover new books by British-Asian authors
View new books below or click 'Upcoming' to set your own date range

Ammu: Indian Home-Cooking To Nourish Your Soul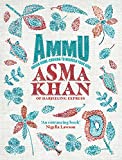 Indian family food with heart
My Ammu, mother, is the centre of our family. This book is a tribute to the simple home-cooking from her kitchen in Calcutta.
These dishes will bring warmth to your kitchen when you need a quick meal or dish to share with your family and friends.
This is the food I cook for my family every day, meals to comfort, restore and nourish.
I give these recipes to you, with love.
Note: We use Amazon affiliate links and earn a small commission if you click through and make a purchase. This goes back into the running of Asian Booklist.