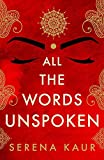 Things are not going well for Maansi Cavale. Her depression is worsening, she barely passes her university exams and she winds up stuck at home, full of regret and unable to find a job. She'd do anything for a way out.
Though Maansi previously considered arranged marriage an outdated tradition (only to be agreed to if you're in your mid-forties and unable to bag anybody yourself), a chance meeting at an Indian wedding party changes everything. Desperate to escape the shackles of monotony and unemployment, she agrees to marry the handsome and wealthy Aryan Alekar. She convinces herself a new lifestyle and wealth will lift her out of the pit. She secures the marriage, but not before serving up a few lies about herself…
As they settle into married life, Aryan remains a mystery to Maansi: some days warm and loving, others cold and distant. Maansi can't help but wonder…who is Aryan Alekar really? And why did he choose to marry so young? While living with Aryan, Maansi realises she could never be satisfied playing housewife. After all, she once had goals and dreams.
While searching for the ambitious Maansi she has buried, Maansi starts to realise that the man she has married is even further from what he seems… Can she salvage their union or will they set each other free?
All the Words Unspoken is a fresh, new voice from debut British-Asian author, Serena Kaur. It is a love story that challenges our preconceptions of relationships and shows us that the choices we make have implications and ramifications far beyond the horizon we can see.