Discover new books by British-Asian authors
View new books below or click 'Upcoming' to set your own date range

All I Said Was True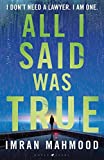 When Amy Blahn was murdered on a London office rooftop, Layla Mahoney was there. She held Amy as she died. But all she can say when police arrest her is that 'It was Michael. Find Michael and you'll find out everything you need to know.'
The problem is, the police can't find Michael – there is no evidence that he exists. And time is running out before they have to either charge Layla with Amy's murder, or let her go.
As a lawyer, Layla knows that she has only forty-eight hours to convince police to investigate the man she knows only as 'Michael' instead of her. But the more she attempts to control her interviews with police, the more the truth leaks out – and how much of that truth can Layla risk being exposed?
Note: We use Amazon affiliate links and earn a small commission if you click through and make a purchase. This goes back into the running of Asian Booklist.