Discover new books by British-Asian authors
View new books below or click 'Upcoming' to set your own date range

A Pebble In The Throat: Growing Up Between Two Continents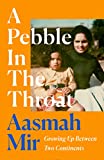 A Pebble In My Throat is two stories told in unison. Aasmah Mir growing up in Glasgow – the place of her birth – and the upbringing of her mother in Pakistan a generation before. It is an emotional and thought-provoking narrative on what it is like to live in two very different cultures whilst all the time aware of racism, prejudice and stereotyping of gender from the 1960s onwards.
A Pebble In My Throat captures life from the lens of a little girl, teenage loner, and grown-up student leaving the safety of home – a witness, sitting on the edge of two cultures, describing what it means to be striving for acceptance in one whilst attempting to fulfil expectations in the other. It will capture the essence of life as a Pakistani in Glasgow and bring vividly to life the one character who shaped her childhood – her mother – who gave her the confidence to seize life and find her voice.
Note: We use Amazon affiliate links and earn a small commission if you click through and make a purchase. This goes back into the running of Asian Booklist.